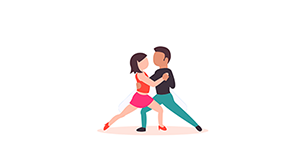 Do Not Get Walked All Over
Dance Studio Management Software
weDance – Dance Studio Management with Ease
Manage all your dance course and members with ease. Online dance class-, customer-, eventmanagement and more. Everything under one umbrella, easy to use and everywhere available.
Sceptical at the beginning, now enthusiastic! I can edit my dance classes and members from anywhere.
Easy Management of your
Dance Lessons and Customers
With our Software you keep an eye on the important things.
All-In-One Dance Studio Management
weDance is your dance studio management software. Developed with and for dance studios to simplify your daily life. Manage your dance courses, customers, events, bar and much more. Everything you need to control your dance studio – no matter where you are. Cloud based device independent for maximum comfortability.
Dance class management
Customer administration
Eventmanagement
Create Invoices
Newsletter
… and more
We want to give every dance studio a free look into our system.
That is why you can test our service one month for free.
Test it today and contact us!
Course administration
Member management
Event management
Employee Scheduling
… and more